Spring is the perfect time to maintain your vehicle. After a rough winter, your car, truck or SUV could probably benefit from a few services. That is why Subaru is offering the Make Love Last Spring Service Event. From March 1 to April 15, schedule vehicle service for your Subaru to keep your vehicle going just the way you love.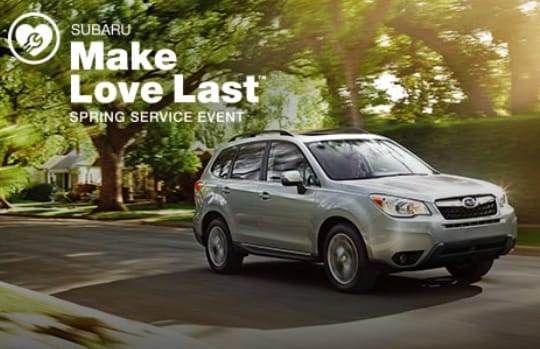 At Subaru, we are dedicated to maintaining our vehicles and helping drivers get from here to there safely. During the Make Love Last Spring Service Event, our team of professional Subaru technicians will inspect the vitals under the hood of your vehicle, including the engine air filter, battery, key fluids, and more. We will also inspect your exterior lights, windshield wipers and warning systems to keep your safe, help you see, and help you be seen. Another service our staff will perform during the Make Love Last Spring Service Event is tire inspections. We will measure the thread depth of your tires to make sure your vehicle is gripping the road in any weather condition. Finally, we will measure the thickness of your brake pads to be sure there's enough material to keep your breaks functioning safely.
During your scheduled service through the Make Love Last Spring Service Event, our factory-trained technicians use nothing but Genuine Subaru Parts, specialized tools and professional knowledge and expertise. Plus, we will perform a free multi-point inspection to be sure everything is in order with your Subaru. Benefit from the Make Love Last Spring Service Event by scheduling your vehicle service at Island Subaru. You can get a hold of our service department by calling 888-651-7913 or visiting 111 Quintard Street in Staten Island, New York. For additional convenience you can even schedule your Subaru service online via our website. However you choose to schedule your appointment, we look forward to working with you this spring!
New York City Subaru Service | Make Love Last Spring Service