Subaru is a brand primarily known for steady and reliable sedans, the kind of vehicles that are safe and steadfast but not generally described as 'exciting' or 'thrilling'.
This cannot be said of the WRX.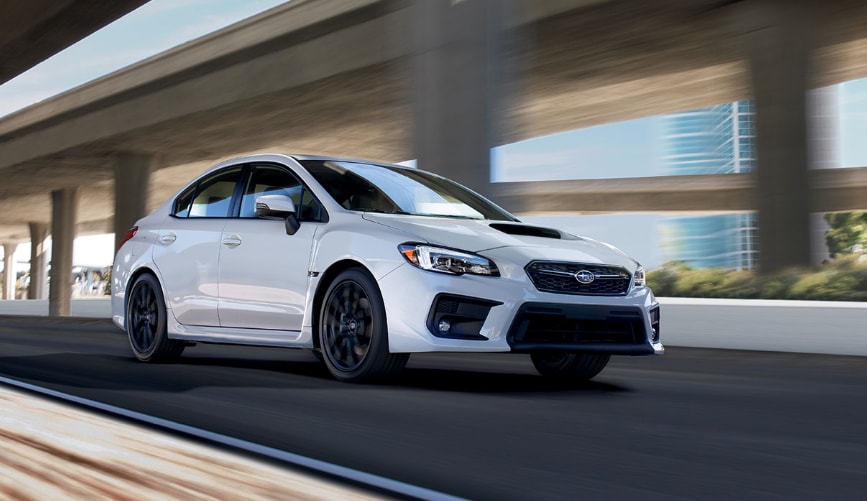 The 2018 Subaru WRX is a coupe-style vehicle with improved performance characteristics coupled to Subaru's reliable craftsmanship. Sporting a 2.0-liter turbocharged 4-cylinder engine, the WRX is capable of producing a stunning 268 horsepower and 258 pound-feet of torque. Linked to a six-speed manual or automatic continuously variable transmission, the standard all-wheel drive can leap to 60 mph in under six seconds. Combined with smart suspension tuning and torque vectoring, the WRX can dominate any street.
The 2018 WRX isn't all about performance however, embracing a comfortable quality interior that speaks volumes to its passengers. Adults can fit comfortably in the rear, while gear can be stowed easily in cubbies throughout the cabin or inside the spacious trunk. If the need arises, the rear seats can fold down to provide additional space as well. Automatic climate control and heated side mirrors are available creature comforts, but the real star of the interior is the 6.2-inch infotainment touchscreen. Including compatibility for Apple CarPlay and Android Auto, the stunningly accessible screen also provides Bluetooth connectivity and available premium audio.
The tech features aren't resigned solely to information and entertainment however, as the WRX features some of the most advanced safety systems available on the market today. In true Subaru style, the EyeSight advanced safety suite keeps a constant watch over the vehicle and its surroundings. Available features include blind-spot monitors, active lane control and forward collision warnings with autonomous emergency braking. The 2018 sports adaptive cruise control as well, making long drives that much simpler.
All combined, the 2018 Subaru WRX is a phenomenal vehicle. Combining high-performance characteristics with cutting-edge technology features, the WRX nonetheless maintains the reliability and attention to safety as its Subaru lineage demands.
Island Subaru is a premier retailer of new and used Subaru vehicles in the Staten Island area. Located at 1257 Hylan Boulevard in Staten Island, our dedicated sales staff and top-trained technicians stand ready to provide you a world-class shopping experience. Get started on your way to owning a new or pre-owned Subaru by getting pre-qualified for Subaru financing!
Jersey City Subaru Dealership | Staten Island 2018 WRX