The 2019 Subaru Ascent aims to be a top family SUV, with some eye-catching upgrades and style, a plus in anyone's book.
Subaru never had a five-door vehicle in its lineup, much to the gripe of car shoppers, so this time, the car maker is here with this eight-seater family SUV that has the looks, performance, and space to floor big car lovers. In fact, it is the biggest vehicle yet from the Japanese company. This three-row vehicle has flexible seating, an all-wheel drive, and a mind-blowing towing capacity of 5000 pounds. The 2.4-liter turbocharged engine produces 260 horsepower and is paired with a CVT. Such a strong car is perfect for all kinds of adventures.
Looks That Stun
The 2019 Subaru Ascent is the Hulk of the automobile universe. It's huge, muscular, brawny, and stuns with its size. Made from high-strength steel, the Ascent is tough and sturdy, capable of handling all your activities. Whether you drive in rain, snow, or dirt, the Ascent has all-weather tires and wide wheels to take you ahead. Other exterior features include LED headlights and taillights, roof rails, and power rear liftgate.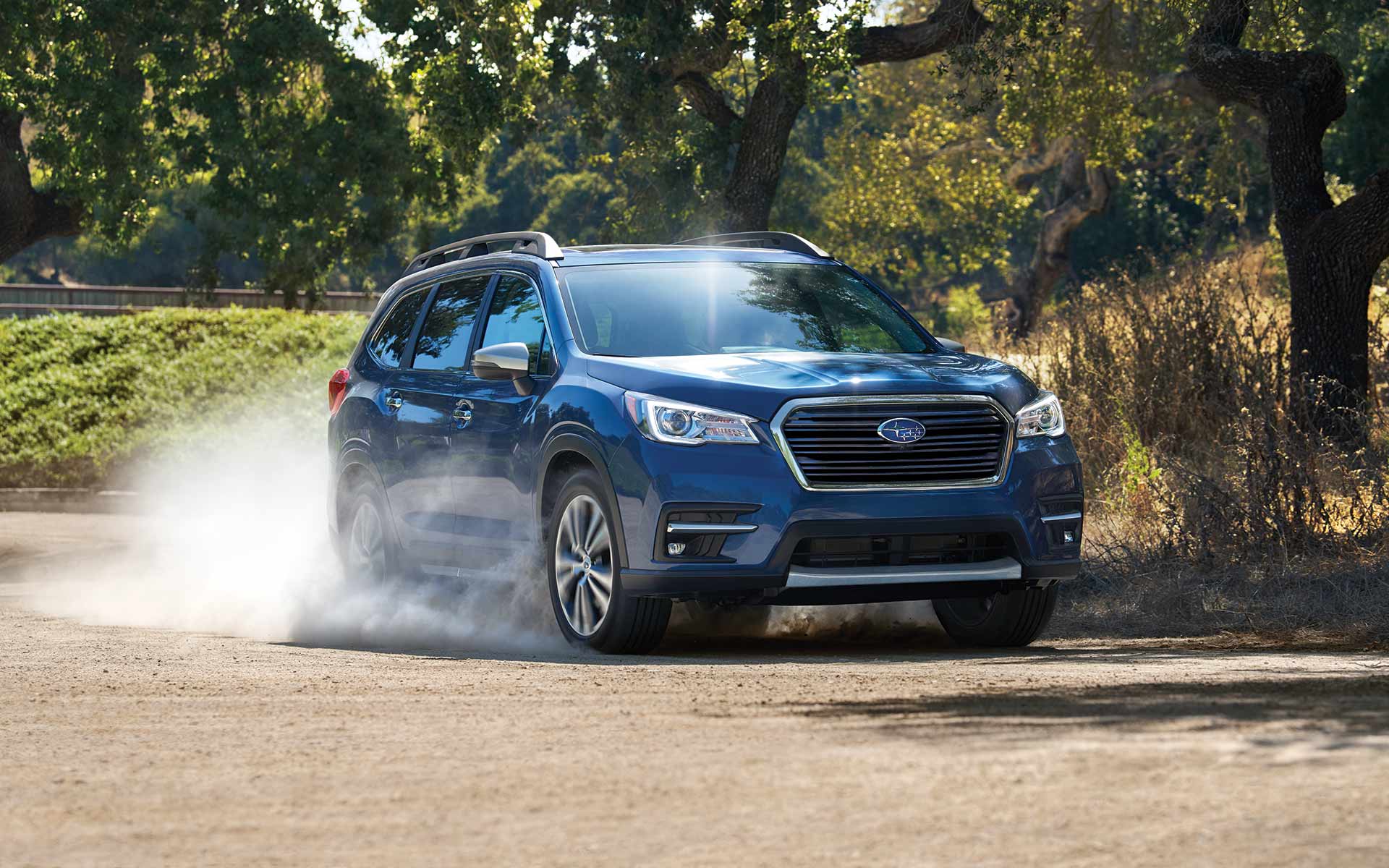 Interiors That Delight
Don't be too stunned by the good looks of the Ascent, because more surprises await you inside. There are three rows that make the seating arrangement versatile. You can either opt for a seven-seater arrangement or an eight-seater arrangement. The cabin space is more than 153.5 cubic feet, plus plenty of cargo space and underfloor storage. The rear doors open extra wide. Premium soft-touch materials adorn all three rows. The power moonroof lets you bring the outdoors in at the press of a button.
Technology That Connects
The interiors don't stop at premium materials or ample space; they have more to offer. The tech features of the Ascent make every ride enjoyable. Besides WiFi, Bluetooth, and USB connectivity, there's a whole multimedia system to keep you connected and entertained on the way. There's smartphone and Pandora integration, satellite radio, music streaming, wireless pairing and hands-free calling, iHeartRadio, Magellan, and Yelp. A voice-enabled navigation system and 8-inch touch-screen are also available.
Safe Driving
There's a host of features to keep drivers and passengers safe on the way. The 360° visibility rear view mirror, pre-collision braking, Blind-Spot Detection system, Rear Cross-Traffic Alert, climate control, airbag system, and automatic cruise control are some of the features that keep you safe and sound.
Island Subaru is the place to find great deals on the 2019 Subaru Ascent. We are currently taking reservations for the Ascent, but if you want to take home a new car today, we are proud to carry an extensive inventory of other Subaru vehicles. Stop in today to view our showroom, or feel free to call us at 888-516-5704
Newark Subaru Dealership | NYC 2019 Subaru Ascent