Whether you like it or not, winter is right around the corner. With the cold weather comes snow and ice. Winter weather conditions can make driving difficult. For winter driving tips to stay safe this season, read on.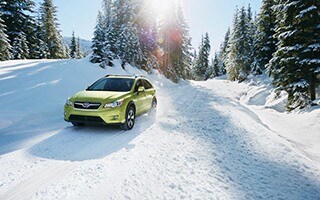 The first tip to stay safe when driving this winter is to avoid driving when you're fatigued. When you're tired, your reaction time is slower. If you need to break in the event of an emergency, you may not be able to break-in time. Also, you may be less aware of your surroundings when you're tired. If an animal crosses your path, you may not notice it until it is too late.
The second winter driving tip is to never warm up your vehicle in an enclosed area, such as a garage. Your vehicle emits dangerous fumes when it is heating up. These fumes can be poisonous and even deadly if inhaled in an enclosed space.
Third, make sure your tires are properly inflated. Tires that are over or under-inflated will struggle in the snow and ice. The last thing you want to deal with during the cold of winter is a flat tire.
Never mix radial tires with other tire types. When it comes to tires, consider putting winter tires on your car during the coldest months of the year. Winter tires, or snow tires, are designed for the road conditions that cold weather brings.
The fifth winter weather driving tip is keeping your gas tank at least half full. If your gas tank is running on empty, your gas can freeze. When you have half a tank or more of gas, it won't freeze.
If you're driving on the highway this winter, do not use cruise control. Cruise control is excellent for warm weather conditions, but it can be unsafe on wet, icy, or sandy roads. It is best that you control the acceleration and speed of your vehicle during harsh winter weather.
If you follow these winter driving tips, you can get from here to there as safely as possible during the upcoming months. To receive service on your vehicle before the cold weather hits, visit Island Subaru! You can schedule your appointment by calling 888-651-7913 today!