The 2019 Subaru Crosstrek Hybrid brings much modern technology to the SUV lineup. Especially noteworthy is the dual electric and gasoline power system. Fuel economy is maximized in an attractive package. But what are the specifics?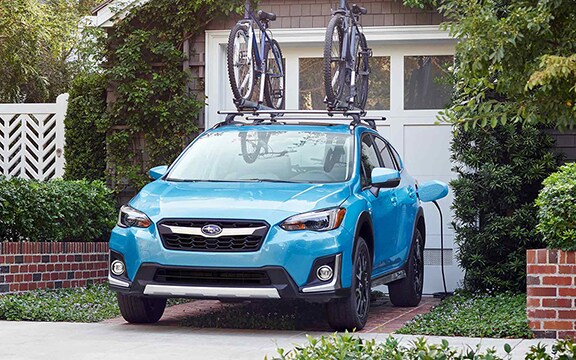 ​
The Subaru Crosstrek Hybrid has a gasoline engine – a 2-liter, 4-cylinder, 137-horsepower unit – combined with two electric motors. One electric motor starts the car and recharges the battery pack for the second electric motor, it can move the car on its own or work with the gasoline engine. With just the electric motor, the Crosstrek Hybrid has a range of 17 miles at up to 65 miles an hour. With the gasoline engine and the electric motor working, claimed fuel efficiency is 90 mpg. Battery recharging is easy with the built-in charger. It takes five hours from a 120V wall outlet and two hours from a 240V source.
The Crosstrek Hybrid has satisfactory acceleration, with a zero-to-sixty time of 8.3 seconds – quick enough for cut-and-thrust driving in heavy highway traffic. Noise reduction is improved over previous models, both during full throttle acceleration and at highway cruising speed. Light off-road duty is possible with the Crosstrek Hybrid, as with its 8.7 inches of ground clearance, it is not prone to bottoming out.
The Crosstrek Hybrid's other standard features are ample, including heated front seats, windshield wiper de-icer, heated outside mirrors, 8.0-inch STARLINK Multimedia Plus system, keyless access, automatic climate control, rear USB ports, steering responsive headlights, leather-wrapped steering wheel, blind spot detection, 18-inch alloy wheels, and seven airbags. Additional optional features are a power moonroof, TomTom voice-activated navigation, 8-speaker Harman Kardon audio system, and a heated steering wheel.
Would you like to know more about the 2019 Subaru Crosstrek Hybrid? Call Island Subaru at 888-516-5704, or visit our dealership located at 1257 Hylan Boulevard in Staten Island.
Staten Island Subaru Crosstrek Hybrid