The 2019 Subaru WRX is a Better Buy Over its Competitors
Subaru is a brand that drives to empower its customers with the confidence to own the road. To do that, you need to feel right at home behind the wheel of a Subaru, and years of automotive innovation have allowed for just that. But in order to measure up to your lofty standards, considering what the competition is offering is of the utmost importance.
While it's logical for you to consider all your options, there are several reasons why drivers around Jersey City and Avenel should make the 2019 Subaru WRX your next vehicle.
The 2019 Subaru WRX vs. The 2019 Toyota 86 and The 2019 Volkswagen Golf GTI
Performance: The most important place to begin is under the hood, as you'll want your next car to feel as good to drive as it looks. The 2019 Subaru WRX has a substantial advantage in horsepower over both the Toyota 86 and Golf GTI, clocking in at 268.

What's notable about this advantage is that Subaru's engineering team was able to get more power out of their engine, despite having the exact same specs at the 86 and GTI. All three vehicles come standard with a 2.0-liter H4 engine, but for some reason (particularly in Toyota's case), the 2019 Subaru WRX wins in highest horsepower and ties for first in torque with 258 pound-feet.

The other thing that stands out about the 2019 Subaru WRX's performance is the fact that it has a full two-gallon advantage in fuel tank capacity over both the 86 and the Golf GTI. Subaru managed to fit 15.9 gallons compared to the dead-last tie that is 13.2 gallons for Toyota and Volkswagen.

Technical Specs: Like every Subaru vehicle, the 2019 WRX comes with the company's patented Starlink technology built right into its dashboard. It keeps you connected in ways that the 86 and the GTI just can't keep up with, particularly regarding the feature that allows drivers to schedule service appointments from the driver's seat of the vehicle with their preferred Subaru retailer.

Toyota's touchscreen technology feels archaic by comparison, as its features largely revolve around AM and FM radio, Aha Radio, iPod connectivity, and hands-free Bluetooth. Useful, but not quite earth shattering. Volkswagen's technical amenities aren't much different, mostly relying on third party apps such Apple CarPlay and Android Auto to maximize its usefulness.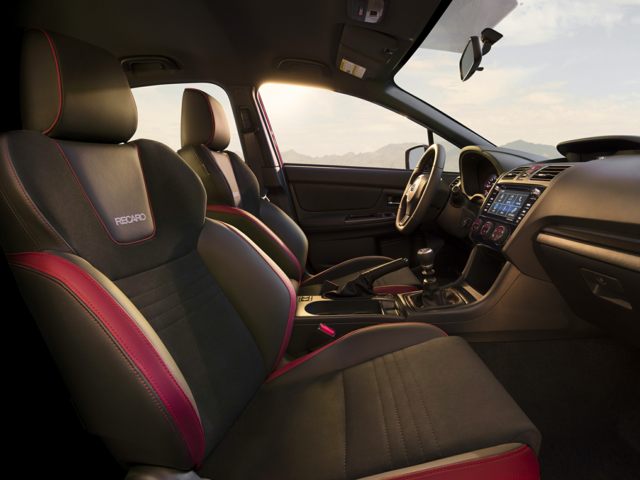 Interior: When it comes to long road trips with loved ones, the first thing that tends to go as the hours roll by is sanity. It's important to not feel so claustrophobic in your own car, and Subaru has accounted for that with the design of the 2019 WRX. Drivers can expect more head and leg room than they can get in either the Toyota 86 or the Golf GTI.

The space advantage is thanks in large part to two key statistics, vehicle length and manufacturer passenger volume. In case you hadn't already guessed, the 2019 Subaru WRX defeats both the 86 and the Golf GTI handily. WRX drivers get at least an extra 12 inches of length on their vehicles than the competition, which will come in handy not just with your passengers, but for those grocery runs that turn out bigger than you anticipated.

Safety: When it comes to safety, Subaru will match up and surpass any competitor, any day of the week. While that may sound like a bold statement, it has everything to do with one key standard feature, Subaru's Symmetrical All-Wheel Drive. All wheel drive is not a new concept per se, but the fact that it comes standard in every vehicle the company produces is something Toyota and Volkswagen just can't compete with.

All-Wheel-Drive is vital for giving you added control over your vehicle, which is particularly useful during the winter months getting from Woodbridge to Brooklyn.
No matter if you're looking for a new car to show off around New York City, or you just want a reliable weekend vehicle, Island Subaru is ready serve you with our diverse inventory of new and used vehicles. We're located in Staten Island, so don't hesitate to stop in and schedule a test drive.