The 2021 Subaru Love Promise Community Commitment Award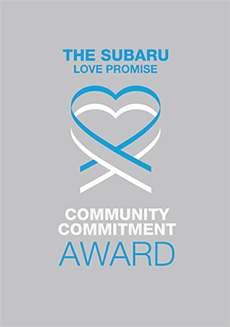 We've been nationally recognized for our dedication to our community and the Subaru Love Promise.
We're honored to receive the 2021 Subaru Love Promise Community Commitment Award. This award nationally recognizes Subaru retailers who are making the world a better place while demonstrating an outstanding commitment to supporting passions and causes in local communities. These efforts are focused in important areas such as the environment, community, health, education, and pets.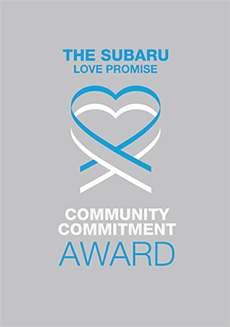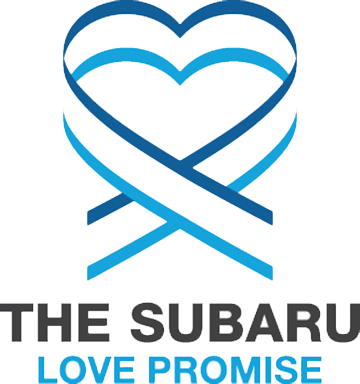 What is the Subaru Love Promise?
Subaru and our retailers believe in making the world a better place and the Subaru Love Promise is our vision of respecting all people. This is our commitment to show love and respect to our customers and to work to make a positive impact in the world.
How is Island Subaru dedicated locally to the Love Promise?
Our Love Promise can be seen in various partnerships with local charities and non-profits. We're grateful for the opportunity, not only to be a part of our community, but to serve it as well.
Love Promise Stories from Island Subaru
Subaru and Island Subaru believe in making a positive impact on the communities in which we live and work. We uphold that belief through our Love Promise Community Commitment. Every month, we select inspiring stories from customers and partners from around our area who strive to support our collective commitment and feature them here
Amazing - Diana V
I was lucky enough to go to Island Subaru. There are not enough words of praise out there for the way I was treated through the entire experience. You can tell this dealership has amazing leadership. The entire process was comfortable, enjoyable, and educational. I did not feel pressured and was not only welcomed by the salesperson but also management made it a point to come over introduce themselves and see if I had any concerns throughout the process. This dealership is exactly what other dealerships should follow and mirror the process and the way customers are treated. Thank you Island Subaru.
---
Subaru Helps Battle COVID 19 - Laura G
Subaru Share the Love Impact Story Richmond University Medical Center Staten Island, NYC When we received the check from the 2019 Subaru Share the Love program from our local partner Island Subaru, it was at the height of the COVID 19 epidemic in NYC. Our hospital, Richmond University Medical Center, is in Staten Island, a borough of NYC. Staten Island has had the second highest COVID 19 infection rate of all the NYC boroughs, and over 1,000 people in the borough have died due to COVID 19.We discussed the use of the 2019 Share the Love Program with Marcello Sciarrino, the owner of Island Subaru. In the past, we have used the funds to help with our new emergency department project. However, when the check was received this year there were immediate needs to support our hospital during the COVID pandemic. Marcello generously allowed us to use the 2019 Share the Love proceed for COVID related expenses our hospital was experiencing. These included:Stocking supplies of personal protective gear for our workers. Purchasing and renting HEPA filtration machines to transform rooms into negative pressure rooms. Any hospital room with a window can be made into a negative pressure room with one of these machines. The negative pressure room is a standard procedure in managing airborne infectious diseases such as COVID and keeping the virus from contaminating other hospital areas. At the height of the pandemic we had 210 COVID inpatients so these machines were essential for infection control.Upgrading our anesthesia machines- these machines can also function as ventilators, which were in short supply in NYC.Upgrading respiratory equipment such bipap machines and other breathing devices other than ventilators that have shown good outcomes for COVID patients.We thank the Subaru Share the love program and Island Subaru for helping our hospital so much during this unprecedented health crisis. Thankfully, Laura Gajda Vice President, Development
---
New Impreza - Mark R
Yesterday I had an appointment with Island Subaru to purchase a new car. I was amazed at how the transaction went. I have to say the best experience buying a car. No hassle, no haggling, all upfront, and no games. Thank You Island Subaru. I didn't call out any salespeople. But I do want to recognize the team at Island Subaru.
---
Sharing the Love at Island Subaru - Joseph L
Barbara Ann and I are just so happy with the whole experience we received at Island Subaru, thanks to our salesman Max. I told John on the way out how appreciative we were and how good our salesman Max was. The love and excitement we had while dealing with Max was unexpected.Now I'm trying to convince my kids that this "silver" is not a lame color, and can't wait to be able to show them in person. A few days later and already the wait is somewhat torturous. So, thanks for the update, and keep them coming! I thought they wouldn't be necessary, but instead, it just fires up the excitement of getting my brand new Ascent!
---
Island Subaru Came to My Rescue! - Winsome A
Good evening. I hope you are well. Last Wednesday after receiving gas for my car, my car refused to start. I reached out Roadside Assistance, but with the cold and the number of incidences within the area I was told the wait could be lengthy. This was the second time my car had stalled, and I recalled your comment at one of the New Owners Clinic indicating that if owners ever have need, to reach out to you. I took you at your word, and with care, thought and compassion you assisted me during this cold evening. You implored the help of John, and Marvin who came to assist me. To you, John and Marvin, I express my deepest gratitude. Thank you all for being Christ to me. May you all have a blessed and happy Christmas with a New Year filled with good health and blessings galore.
---
Third Time is a Charm - Gregory F
I decided to go all in for my third Subaru so I grabbed my beautiful 2019 Outback Touring. It was love at first sight and everyone at Island Subaru was amazing helping me get into my new ride quickly and at a great price. Thanks Naile and everyone at Island Subaru!
---
Subaru Loves To Care - Monica J
On Wednesday, September 25th the New York City Chapter and the Island Subaru team had the pleasure of delivering 80 blankets and 50 arts & craft kits to Richmond University Medical Center as part of the Subaru Loves To Care program. These comforting gifts were accompanied by personalized messages of hope written by the customers and staff of Island Subaru team.During the visit, we visited the pediatric unit where we all met in the "playroom". There we were able to meet some of the hospital staff to present the blankets and kits. They were so incredibly thankful for our contribution and continued partnership. We also had an incredible opportunity to meet with one of the pediatric patients and her family. We presented a blanket and arts & crafts kit to her. She was so excited to see us and loved how many art supplies were in the kit. The family was extremely grateful to us and continued to express their appreciation. The mother expressed that the daughter had been cold the night before so these blankets came at the exact right time. The hospital contact sent a note after the visit sharing how extremely thoughtful and amazing we are to participate in a program like this along with what a difference it makes in the patients' lives.This was such an incredible experience and we are so proud to partner with Subaru to spread hope, love and warmth to those fighting cancer, across the country and right here in the New York City community.
---
Life Time Driver - Helen Y
Dear Subaru Team, Thank you for your life-saving craftsmanship in all your vehicles. On December 15, 2018, my two daughters, ages 13 and 6, and I were on our way to a birthday party. Two blocks from the venue, we were struck by a box truck with the heaviest impact. Our 2017 Forester flipped over twice and landed on the sidewalk. My two daughters were dangling from their seats, looking frightened and I was on my side. As I looked around the inside of our car, we were so very lucky the airbags deployed around the car which kept us safe. We were so fortunate that we walked away alive without any scratches; however, I still suffer from neck and upper back pain coupled with headaches and dizziness. But considering how hard we were hit, the injuries are minor in comparison. I am forever grateful my girls are okay. As you can tell from the attached picture, the total damage of our vehicle could have resulted in worse outcomes. John E. sold us the Forester back in October 2017. He told us how safe the vehicle is and all the benefits come along with it. After the accident, we went back to Staten Island, Island Subaru, John introduced us to Sam C. who sold us the 2019 Forester. We received the most hospitable service and their professionalism was beyond their call of service. We walked in without a vehicle, a few hours later, we drove off with our brand new 2019 Forester. We are committed lifetime Subaru drivers because Subaru standby their name.
---
Island Subaru Spreads Love and Warmth to Patients - Michelle S
On Thursday, July 12th, Greg Kemp and Clayton Kemp from Island Subaru of Staten Island joined The Leukemia & Lymphoma Society (LLS) to deliver blankets, craft kits, and messages of hope to patients at Richmond University Medical Center (RUMC). Accepting the donation was RUMC staff members including Daniel J. Messina, President, and CEO of RUMC, Dr. Joan Graziano, Chief of Hematology, and Rebecca Sherman, Child Life Specialist. The staff gratefully accepted the donation and explained how the patients and their family members would benefit from these small pieces of comfort during their treatment. It was a great day of collaboration between RUMC, Subaru, and LLS, as we joined together to help patients in the Staten Island community.
---
Richmond University Medical Center Blankets - Island S
On June 12, Island Subaru presented the staff of the pediatrics department at Richmond University Medical Center blankets and arts and crafts supplies. The donation is part of Subaru's national partnership with the Leukemia & Lymphoma Society in efforts to spread hope and warmth to the cancer patients in local hospitals. Island Subaru delivered 80 blankets to the department to be used to keep patients warm during their treatments and stay at the hospital in hopes of making it a bit more comfortable and cozy. Island Auto Group is dedicated to the Staten Island community and its charities.
---
My New Impreza! - Annalise S
I purchased my new Crosstrek from Island Subaru back in July, 2016. Island Subaru made the experience easy, painless and most importantly, fun! The salesman, Sam, not only went over the vehicle with me in full detail but even stayed in contact with me the next couple of days to make sure that I am loving my new vehicle! Unfortunately, in May, 2017, my Crosstrek was totaled in a flash flood! Sam and the rest of the staff at Island Subaru all took an interest in making sure that not only was I ok, but also made sure that I had options available for a new vehicle. This time around I decided to go with a new 2017 Subaru Impreza Sport! Once again, Island Subaru answered all of my questions and gave me a full demonstration of the vehicle. The finance manager was even able to get me approved on my own! I am very happy with my Impreza and the staff at Island Subaru!
---
Island Subaru Donates $32K To Local Hospital - Island S
Subaru of America, Marcello Sciarrino and Josh Aaronson of Island Subaru and Daniel J. Messina, president & CEO of Richmond University Medical Center, announced Wednesday, May 10th that the automotive dealership has made a $32,248.69 donation to the hospital's capital campaign. The funds will go toward construction of a new $62 million Emergency Department at the medical center's West Brighton campus. The donation was made as part of Subaru's "Share The Love" campaign, donating to charities and non-profits across the country. "We are tremendously grateful for the support of outstanding corporate citizens like Subaru," added Dr. Messina. "Your support makes a tangible difference in the community's healthcare and in the emergency care at Richmond University Medical Center."
---
My Subaru Impreza - Brandon M
I have been a Subaru addict since I was young! From the rallys, to meets, to other Subaru events, they have always sparked my interest. When it was time to get my first vehicle, my first and only option was Subaru, specifically the Impreza Sport. At Island Subaru, not only did they greet me with a smile, but answered every one of my questions, and made me feel at home.My car buying experience could not have been better. To this day, I am loving my Impreza Sport and I am already showing my little brother why Subaru is the best brand on the market!
---
My Island Subaru - Annalise S
I purchased my Crosstrek at Island Subaru in Staten Island, New York. The car purchasing horror stories were put to rest at Island Subaru. My experience was a great one! The staff is exceptionally professional and friendly. All of my questions were answered, and the process was stress free. I chose the Subaru brand because of its safely and reliability. Also, I believe in "giving back" whenever possible, so I support the Subaru Love Promise. My Subaru retailer gives back to national charities such as Meals on Wheels and the ASPCA. They also support local Staten Island institutions such as Staten Island Hospital and Richmond University Medical Center. As I see it, my purchase was a win/win situation. I get to drive my beautiful, safe and efficient Crosstrek and some deserving charities receive some much needed support. I'm actually looking forward to my next Subaru from Island Subaru!
---
Serving the Underserved - Eugene L
Cancer patients on Staten Island may only be a few miles away from the heart of New York City, but the distance can feel like a never-ending journey when you're a parent needing to drive a sick child to and from endless sessions of chemotherapy. When 4 LLS staff members delivered blankets to the Staten Island University Hospital, the nurses on the pediatric oncology floor shared this perspective. "Even though Staten Island is part of New York City, we are still an under-served community" said Head Nurse Sarah Vaiselbuh, "It takes hours driving through traffic and money for taxis and gas for parents to drive their sick children back and forth into Manhattan just to be able to receive care from the nation's best doctors." Now, with the remarkable gift of $100,000 from Subaru, LLS has been able to reopen the Travel Assistance Program, which provides stipends to patient families directed specifically to covering the cost of traveling from home to hospital. The entire Staten Island University Hospital nursing staff were thrilled to receive and distribute the blankets, and are so thankful for Subaru's commitment to their small but mighty community. Staten Island's LLS Team In Training Coach, Patti Jezycki, accompanied the blanket delivery, and shared how her husband (a NYC Firefighter) is in remission from CML (chronic myelogenous leukemia) thanks to the drugs LLS's research funded... further proof that every dollar in the fight against cancer truly makes an impact!
---
Subaru Share the Love - Marcello S
On Thursday, April 7th, Island Subaru and Subaru of America, Inc. donated $38,257 in support of Staten Island University Hospital's Children's Cancer Center. Through Subaru of America's "Share the Love" event, for every new car that was purchased between November 19th through January 1st, Subaru of America donated $250. Island Subaru donated an additional $100 per car. The combined donation will support the cancer program and help fund medical research to fight pediatric cancer. Along with SIUH and Subaru of America, Island Auto Group is dedicated to always giving back to the community of Staten Island!
---
Subaru and Superstorm Sandy - Sharon H
In May 2012 I bought my first Subaru, a new Forester. It was love at first drive. Now, fast forward to October 2012. I lived in the Ocean Breeze section of Staten Island and had packed up my husband had the Forester packed for evacuation when the storm hit. Unfortunately, by the time we had decided it was unsafe to stay in our home the water from the ocean had already crossed onto our street and within 5 minutes it was too deep to drive. We were stuck in our home as I watched the water overtake my car and saw it fill up like an aquarium. Needless to say I was distraught. A few days later I came into your dealership still shaken from the experience. With tears in my eyes I explained what happened to my new Forester. Your sales rep. was compassionate and very helpful. He quickly was able to locate a new Forester with the same features within the same basic price. He then had the remote start feature I had installed on my previous Forester installed in the new one without charging me for it. I was very appreciative of this and within a week had my new vehicle. My husband and I really needed the spaciousness of the Forester to move ourselves, three dogs, and our belongings to and from different locations while our home was being made livable again since it had sustain damage from the storm. At a time when we were desperate for some relief the caring and cooperation we received from your dealership helped relieve some of the stress.
---